Traveling to Healdsburg with the Family Just Got Fabulous!
Traveling to wine country with the kiddos can be tricky. Who really wants to stay in the same cramped hotel room with their kids? And if you are traveling with more than one family, finding the right accommodations for a group can be tricky. Sure you can rent a house, but you'll be responsible for cleaning up and making the beds. Who wants that? Well, the Deas family who created Hotel Two Thirty-Five asked themselves the same question.
Two Thirty-Five was the vision of the Deas family, residents of Healdsburg for several generations. As a family who travels together frequently, they often stay in vacation rentals to enable everyone to be together. But with vacation rentals, they found that they missed the luxurious details of a hotel stay – daily cleanings, an on-site concierge, etc.
When they began planning their hospitality concept, they envisioned a hotel that was more than just a collection of bedrooms, but rather full suites where friends and families could gather and spend time together in downtown Healdsburg. Two Thirty-Five Luxury Suites is the best of both worlds: a comfortable, yet beautifully appointed space to gather as a small group of family or friends, with the amenities and conveniences of a hotel experience.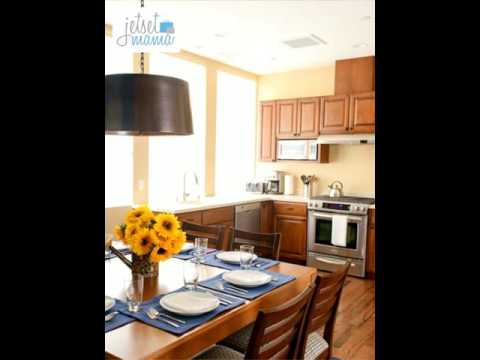 So, along with creating a hotel with suites that all have three bedrooms and three bathrooms, your suite will be cleaned and beds made! Two Thirty-Five is located in the heart of Healdsburg and it is the perfect place to stay when traveling with your family or a group of friends because you can walk across the street to the park, or simply stroll Healdsburg's cute square just steps from your suite.
The hotel is located just a half-block from Healdsburg's historic downtown plaza, within walking distance of dozens of restaurants, tasting rooms, and shops. And of course, the staff at the hotel will be more than happy to recommend great places to eat and drink during your time in Healdsburg.
There are only four fabulously furnished and luxurious suites. Each features three bedrooms and three bathrooms, as well as a spacious living room and gourmet kitchen. Each suite can sleep up to 6 people in three California King beds.
Check out the suites:
The other amenities include:
California King beds in every bedroom
Flat-screen, high definition televisions in every room
A full gourmet kitchen stocked with pots, pans, dishes, and glassware
Nest thermostats, television hook-ups, and other high-tech details
A washer and dryer in-suite
Magnificent bathrooms, complete with toiletries and hairdryers
High-definition televisions in every room and complimentary Wi-Fi throughout the suites
Original artwork in every room, curated by local artists
travel details
Sonoma County's Charles M. Schulz Airport is just ten minutes from Two Thirty-Five's door, with direct flights to Seattle, Portland, Los Angeles, San Diego, Phoenix and Las Vegas. For visitors coming in from San Francisco, (and San Francisco International Airport) we are an hour and a half (traffic allowing) from the city, directly north on Highway 101.
address
235 Healdsburg Avenue
Healdsburg, CA
95448
707-473-3500
social media